In the dynamic realm of corporate interactions, fostering strong relationships is pivotal. A well-timed and thoughtful gift can go a long way in strengthening these ties. Among the plethora of corporate gift options, corporate chocolate gifts stand out as a sweet gesture that transcends occasions and seasons.

Companies are increasingly recognizing the value of gifting chocolate to employees, clients, and professional associates as a year-round expression of appreciation and gratitude. Say hello to Compartes Los Angeles. Our gourmet corporate gift packages offer premium chocolate confections, customized chocolate logos, drop shipping, client gifts, holiday gifts, and much more. Shop our selection of gourmet chocolate corporate gifts below.
1. Unveiling a Universal Delight
Chocolate is a universally loved delicacy, making it an ideal choice for gifting. It transcends cultural boundaries and dietary preferences, appealing to a wide array of recipients.
2. Sweet Gesture, Strong Connection
Offering chocolate as a gift is symbolic of thoughtfulness and care. It's an expression of gratitude and recognition for the efforts and contributions made by employees, clients, and business associates.
3. Impact on Employee Morale
Gifting chocolate to employees can significantly boost morale. A surprise chocolate gift can brighten their day, fostering a positive work environment and enhancing employee satisfaction.
4. Building Client Relationships
Sending corporate chocolate gifts to clients communicates appreciation for their business. It creates a lasting impression and nurtures a long-term relationship beyond the confines of business transactions.
5. Enhancing Brand Image
Incorporating branded chocolates or packaging into the gift elevates brand visibility and reinforces brand presence. It's a subtle but effective way to imprint the company's identity on the recipient's mind.
1. Personalized Branding
Tailoring chocolates or packaging with the company's logo, tagline, or colors adds a personal touch to the gift. It reinforces brand recognition and ensures a memorable, branded experience.
2. Reflecting Company Values
The choice of chocolate can reflect a company's commitment to quality and excellence. Opting for premium, ethically sourced chocolates conveys a message of high standards and social responsibility.
3. Tailoring to Preferences
Understanding the recipient's taste preferences allows for customization of the chocolate gift, showcasing attentiveness and a genuine interest in their likes and dislikes.
4. Creative Packaging
Innovative and appealing packaging designs can make the gift more enticing. Incorporating the company's color scheme or design elements adds a cohesive, branded aesthetic.
1. Celebrating Milestones
Acknowledging work anniversaries, project completions, or other milestones with chocolate gifts affirms the significance of those achievements and encourages continued dedication.
2. Welcoming New Clients
Gifting chocolates during the onboarding process for new clients creates a positive first impression and sets the tone for a fruitful business relationship.
3. Employee Appreciation Days
Capitalizing on dedicated employee appreciation days to distribute chocolates demonstrates the company's acknowledgment of its workforce's efforts and dedication.
4. Monthly Recognition
Incorporating a monthly or quarterly chocolate gift program ensures regular acknowledgment and appreciation for employees and clients, reinforcing ongoing relationships.
Corporate chocolate gifts encapsulate the essence of thoughtful giving, transcending any specific holiday or event. The act of sharing chocolates with employees, clients, and professional associates communicates gratitude, fosters stronger relationships, and reflects positively on the company's image.
By aligning these gestures with company values and branding, corporations can create a lasting impact that extends beyond the delightful taste of chocolate, leaving a sweet mark on the recipient's heart and mind.
Premium dark chocolate or milk chocolate is ideal for corporate gifts as it conveys a message of quality and excellence. Plus, it's usually well-received by a wide range of recipients. For those with dietary restrictions, consider offering dark chocolate with no added sugar or customized vegan chocolates.
Creative packaging can make the gift more enticing. Consider incorporating the company's branding, color scheme, or design elements into the packaging design to create a cohesive, branded aesthetic. Other ideas include displaying the chocolates in gift boxes or baskets or wrapping them in decorative paper with a personalized ribbon.
Chocolate is often seen as an expression of love and appreciation. It is also a symbol of luxury, indulgence, and pleasure. By gifting chocolates to employees and clients, corporations can demonstrate their gratitude and foster stronger relationships. Additionally, chocolate can be used to support team building and reward exceptional performance.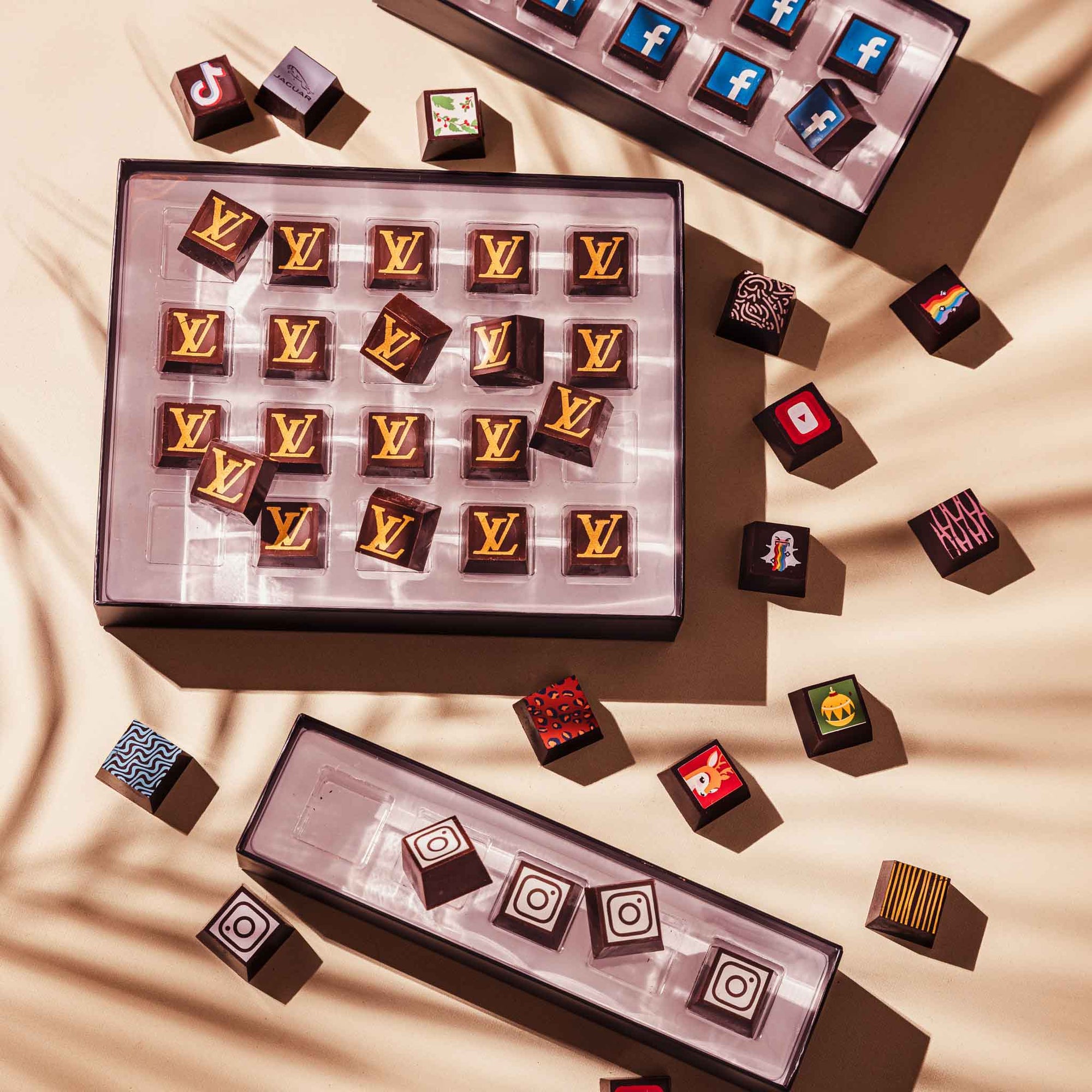 Chocolate Corporate Gifts & Branded Chocolates
A Compartés corporate chocolate gift box is the most sophisticated and delicious branded chocolate gift. Trusted by the world's most renowned brands, explore our custom chocolates, branded chocolate gift boxes, chocolate corporate gifts and volume discounts for holiday gifting, client gifts, chocolate gift baskets, events and more.