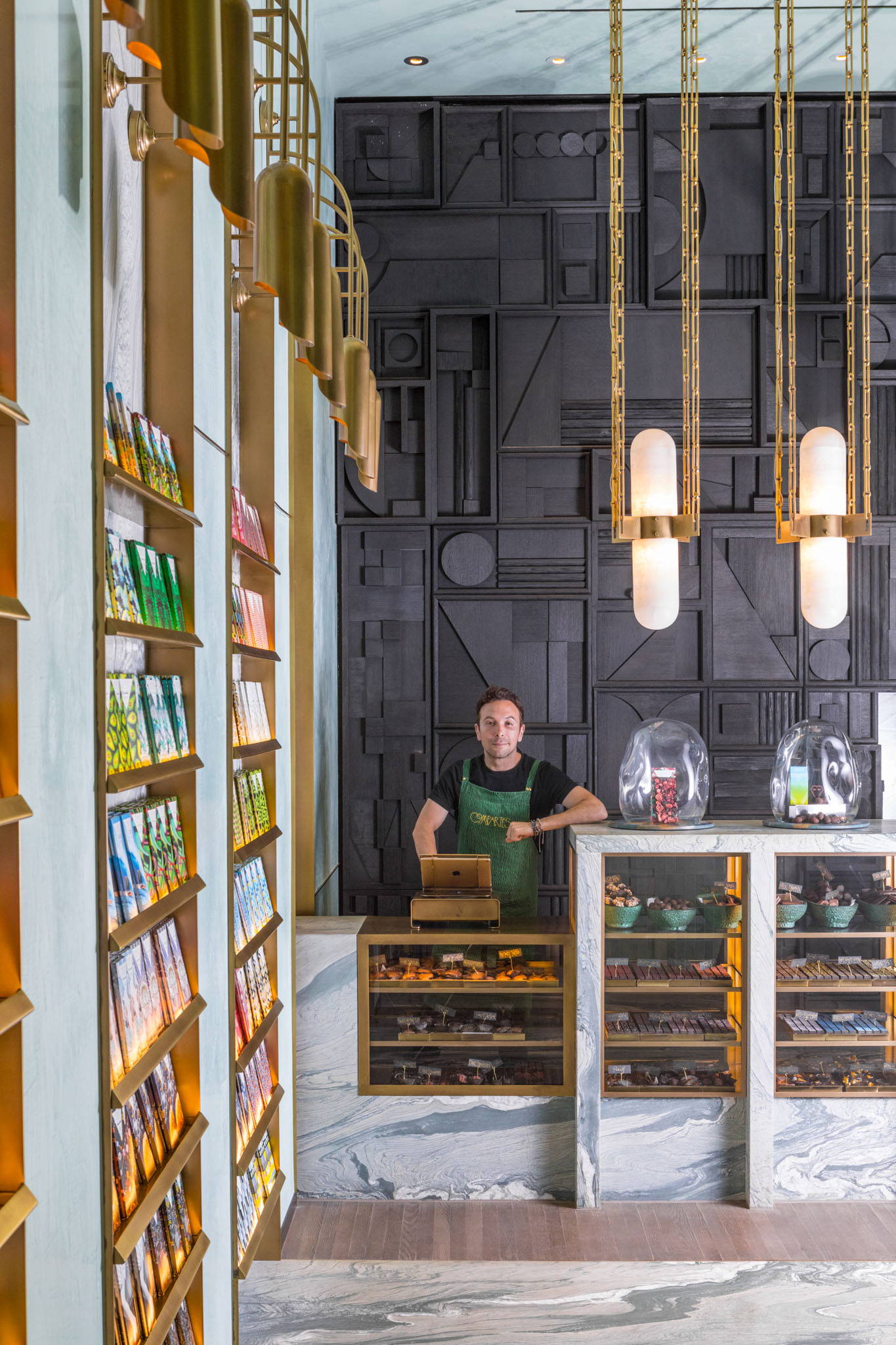 Named one of Forbes 30 Under 30, Jonathan is known as one of the youngest and most prolific artisan chocolatiers in the country. He began at the age of 15 and, driven by his passion, purchased a chocolate shop nine years later.
Despite no formal culinary or business training, he has grown Compartés into an international brand, producing small batches all by hand in his Brentwood chocolate kitchen, of over 200 different—and often unexpected—flavors. Jonathan's unique vision is chocolate as art...
For the native Angeleno, the art of crafting sweets has been a lifelong project. Channeling his upbringing and experiences in the city, Jonathan has ultimately molded Compartes into a chocolate reflection of art, design, fashion, style, food and culture creating vibrant and unique chocolates that have become known worldwide for their hip LA vibe and stylish flair. Jonathan was 21 years old when he took over Compartés, an LA tradition since 1950, ultimately buying the business at 24 and opening 7 shops in Tokyo Japan as well as his second location on Los Angeles' famous fashion street Melrose Place. "Compartes is me. It's my world, likes, loves, passions and ideas spread out onto chocolate, so the brand and the chocolate are constantly evolving and growing just as I am."
His menu of chocolate truffle flavors numbers well into the hundreds now; while his line of chocolate bars are wrapped in out-of-this-world gorgeous custom patterns, prints and designs with iconic made-in-LA graphics. Jonathan also writes the poems that appear on the backs of the bars. In "California Love" we find an homage to Los Angeles sunsets and palm trees, "Old Hollywood" boasts an art-deco sconce design inspired by his West Hollywood home, "S'mores" features artwork that includes his 2 dogs on the back cover, and "Donuts & Coffee" showcases Grahm's love for nostalgic treats, a bar that is made daily using fresh donuts from select donut shops across LA.
Besides television appearances on CNN, ABC, Bravo, Food Network, he was chosen by HSN CEO Mindy Grossman to appear on the HSN network and broke food sales records with his gourmet chocolate bars on the channel, and he has also recently launched a collaboration with renowned designer Kelly Wearstler. America's youngest chocolatier has also become a favorite of Hollywood celebrities, movie studios and major corporations for his unique custom chocolate corporate gifts and luxury chocolate art confections.
Making special chocolates for high profile events such as the Golden Globes and Academy Awards, Grammys and red carpet movie premieres, Compartes Chocolatier LA has become known as the chocolatier to the stars with clientele ranging from Jennifer Garner and Heidi Klum to custom chocolates for clients like Dreamworks, Facebook, Gucci, Infiniti and the Discovery Channel.