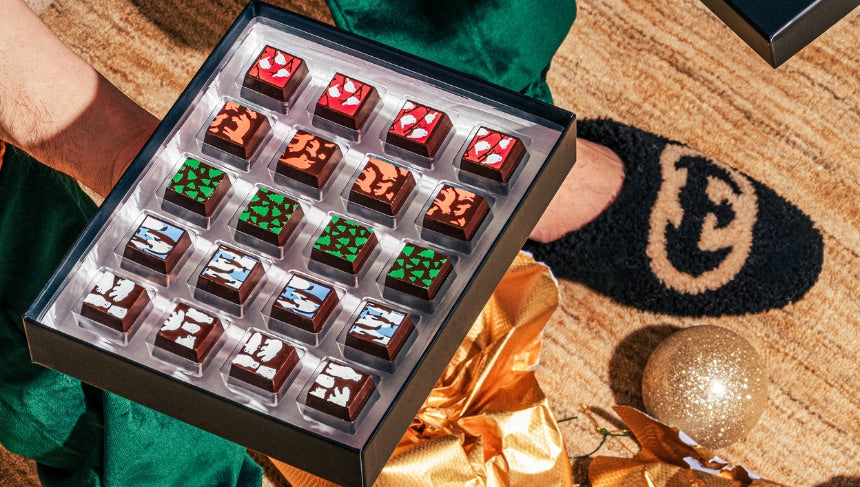 Christmas Chocolate Gifts
Christmas Chocolate Gifts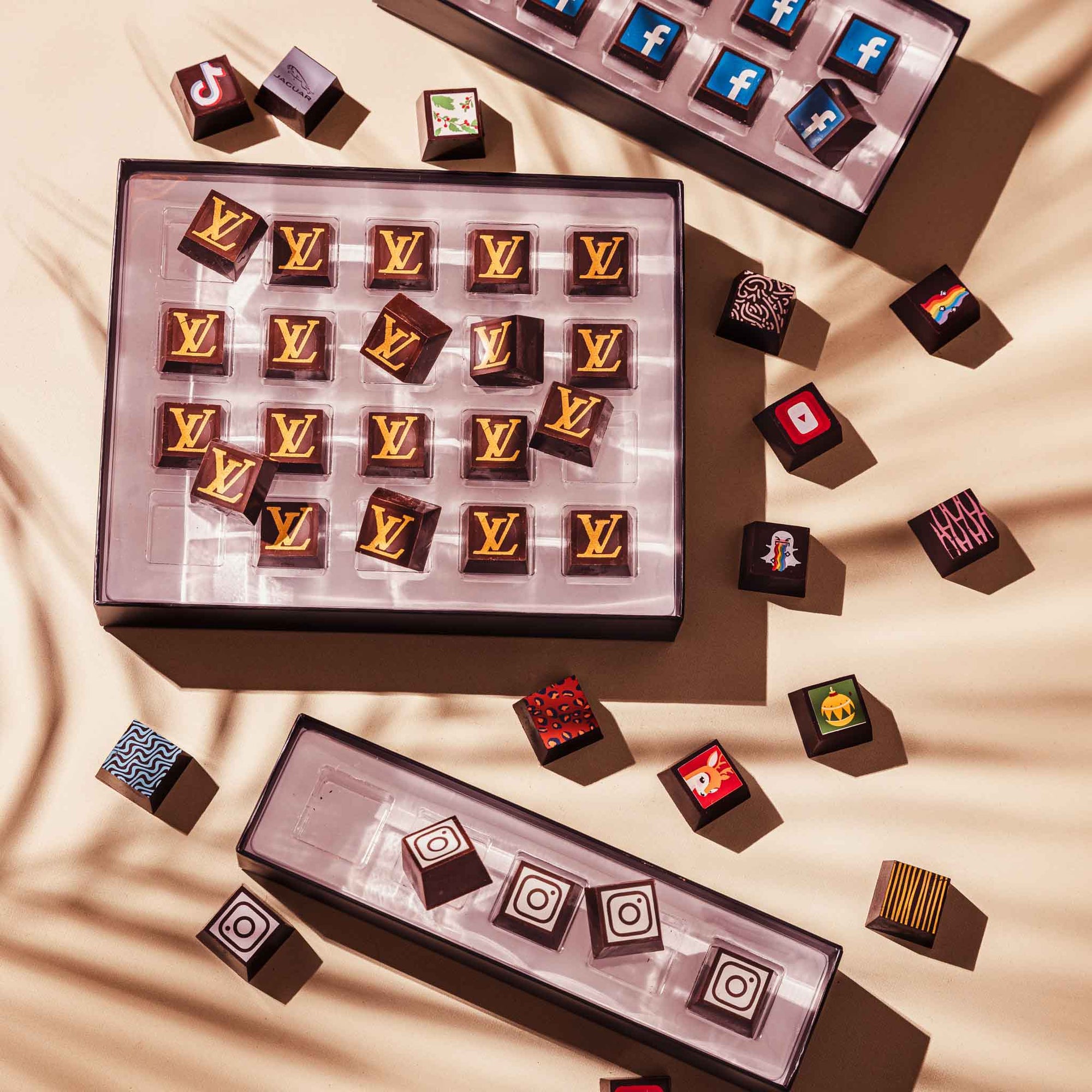 Chocolate Corporate Gifts & Branded Chocolates
A Compartés corporate chocolate gift box is the most sophisticated and delicious branded chocolate gift. Trusted by the world's most renowned brands, explore our custom chocolates, branded chocolate gift boxes, chocolate corporate gifts and volume discounts for holiday gifting, client gifts, chocolate gift baskets, events and more.
Gourmet Holiday Chocolates, Chocolate Gift Boxes and Christmas Gifts & Gift Baskets. Shop Business Gifts, Corporate Gifts, Holiday chocolate bars, chocolate truffles. Premium Gourmet chocolates made in Los Angeles. Shop our chocolate holiday gift guide now!
What Halloween candies do you give people?
When it comes to Halloween candies, Compartés has something for everyone. From spooky season-themed treats to goodies for the sweet tooth, our online shop offers a wide selection of unique gifts. Whether you're looking for something special for your closest friends or family members or just want to add some fun and festive touches to your own home, Compartés has you covered with its creative treats. Popular options include Halloween-themed chocolate bars, truffles, and more in shapes like ghosts and other Halloween-inspired designs.
Holiday Chocolate Gifts and Gourmet Chocolate Holiday Gift Boxes
Gourmet Holiday Chocolates, Chocolate Gift Boxes and Christmas Gifts & Gift Baskets. Shop Business Gifts, Corporate Gifts, Holiday chocolate bars, chocolate truffles. Premium Gourmet chocolates made in Los Angeles. Shop our chocolate holiday gift guide now!
What are the best Christmas chocolates?
At Compartés Chocolates, we wholeheartedly embrace the essence of the holiday season, where decadence, celebration, and indulgence reign supreme. In this most magical time of year, our mission is to elevate your festive moments with the unparalleled splendor of Christmas chocolates that exude opulence, craftsmanship, and pure delight.
Our chocolatiers, true artisans of their craft, pour their passion into crafting premium gourmet chocolates that exemplify the epitome of quality and flavor. As the winter wonderland comes alive, our Christmas chocolate collection captures the very spirit of the season. Our menu is a symphony of dark, milk, white, vegan, and gluten-free chocolates, each created to cater to a diverse palette. From timeless classics to avant-garde innovations, we leave no wish unfulfilled.
For those seeking the allure of tradition infused with novelty, our "Eggnog," "Cinnamon Roll," "Cornbread," "Sweet Potato Marshmallow," and "Pumpkin Cheesecake" white chocolate bars are a splendid choice.
Embrace the wonder and excitement of the holiday season with our chocolate-covered treats and delicacies. Indulge in our luscious chocolate-covered marshmallows and marvel at the sophistication and sweet pleasure of our chocolate-covered dates. 
Our commitment to decadent delights extends beyond chocolates alone. We have thoughtfully designed chocolate-dipped fruit gift boxes and gourmet hot chocolate mixes, ensuring a comprehensive and extraordinary experience this holiday season.
What are the best Christmas chocolate gifts?
Elevate your holiday gifting tradition with our limited-edition luxury gift baskets. Our "Edible Chocolate Gift Basket" and "Luxury Chocolate Gift Box" are meticulously curated to provide an immersive experience worthy of gifting to family, friends, or esteemed corporate partners. For a unique twist, our "Hanukkah Chocolate Gift Box" and "Matcha Green Tea Chocolate Dipped Oreos" beckon as extraordinary selections.
We recognize and honor the growing community of vegans and those with specific dietary requirements. Our "Vegan Chocolate Truffles" collection embodies the harmonious blend of gourmet finesse and compassion. As a token of our devotion, we present the "Champagne Dark Chocolate Bar", a gluten-free and vegan option that seamlessly combines indulgence with sophistication.
To our esteemed corporate clientele, we offer a unique opportunity to engrave your brand identity onto our chocolates, transforming them into bespoke, luxury, edible holiday gifts that are impeccably suited for business gifting events.
Compartés Chocolates is your definitive destination for the epitome of Christmas chocolates. Our diverse range of flavors, luxurious Christmas chocolate gift baskets, and personalized gifting options offer an unmatched, one-stop experience. Whether you seek a heartfelt gesture for your loved ones or a distinguished corporate gift, the Compartés Chocolates holiday collection promises to radiate joy and magnificence throughout this cherished season. Do not miss the opportunity to savor the finest holiday chocolates with Compartés Chocolates.
What is the best quality chocolate in the world?
As aficionados and maestros of the chocolatier's craft, we unabashedly assert that our brand represents the pinnacle of chocolate excellence, a declaration underpinned by an enduring commitment to uncompromising quality, artistic innovation, and, most significantly, sumptuous flavor.
We procure only the most exquisite ingredients for our tantalizing chocolate bars and confections. From the luscious cacao beans of South America to the delicate sea salt sourced from the Mediterranean's azure shores, every component is meticulously selected to ensure nothing less than sublime perfection. Our dedication to quality extends to our timeless, handcrafted techniques, utilizing solely the purest, ethically sourced cacao. The result? Every bite is a harmonious symphony of flavors and textures that caresses the palate.
Chocolate is not merely a confection but an art form, a testament to our creative genius. Compartés Chocolates redefines the boundaries of what chocolate can be, introducing an array of unprecedented and one-of-a-kind flavor combinations. From the vivacious Citrus Crunch to the exotic allure of the Matcha Bar, our creations tantalize the senses, pushing the envelope of what is possible. Our master chocolatiers blend traditional techniques with audacious creativity, yielding chocolates that are as visually striking as they are delectable.
Authenticity is at the heart of the Compartés narrative. The story of Compartés Chocolates is one of tradition and familial legacy, a heritage that traverses generations. Don Comparte's fervor for the craft has been meticulously passed down through the years, ensuring that the original recipes, methods, and love for chocolate-making endure. Our chocolates evoke nostalgia, connecting our patrons and artisanal chocolate production's illustrious history and traditions.
What truly makes Compartés Chocolates the epitome of chocolate excellence? It's not merely our unwavering devotion to quality, innovation, and authenticity; it's the lavish experience encapsulated in each bite. When you indulge in a Compartés chocolate, you embark on a gastronomic voyage through layers of flavors, textures, and emotions. The velvety, dark chocolate marries harmoniously with the sweet, creamy caramel in our iconic Caramelized Popcorn Chocolate Bar, offering a symphony of tastes that lingers luxuriously on the palate.
Our Chocolate Bars, the veritable jewels of our collection, are unparalleled in the realm of chocolate. The chocolate embodies velvety elegance, providing the canvas for an orchestration of unparalleled flavors. Our innovative approach to flavor combinations, as witnessed in the Blackberry Sage, Superfood, and Coffee and Donuts Chocolate Bars, has revolutionized the concept of what a chocolate bar can be.
In addition to our decadent bars, our truffles and bonbons are exquisite masterpieces, meticulously crafted to perfection. The indulgent, ganache-filled centers are married to an opulent blend of flavors and textures, resulting in a veritable explosion of delight with each opulent bite.
Beyond our artful concoctions, Compartés Chocolates extends its allure with a range of vegan and dairy-free selections, ensuring that everyone, irrespective of dietary preferences, can partake in the luxury of our chocolates.
Compartés Chocolates is not merely a brand but a lavish celebration of chocolate craftsmanship. Our unwavering commitment to quality, ingenuity, and authenticity has positioned us at the zenith of the chocolate world. Each bite of our chocolate is an extravagant homage to artistry, a tribute to tradition, and a voyage into the realm of unparalleled flavor. We cordially invite you to immerse yourself in the unrivaled luxury of Compartés Chocolates and discover why we unabashedly assert that we produce the world's most luxurious chocolate.