LOS ANGELES, CALIFORNIA
Breaking the Mold
The Modern Art of Chocolate with Compartés Chocolate's Jonathan Grahm
Off of Santa Monica Boulevard, nestled between Beverly Hills and Westwood, there is a beautiful teal-infused space with floor-to-ceiling windows that beckons passersby to pause inside for a moment of indulgence. Amid the marble, dark wood, and brushed gold, a rainbow display of chocolate bars lines the shop's wall. Glass cases show off chocolate creations: hand-dipped dried fruits, dark chocolate-enrobed nuts, and square truffles embellished with bold graphics. If there was a Venn diagram of chocolate, art and Los Angeles, you'd find Compartés in the middle.
Design and aesthetics have always played a deep role in owner Jonathan Grahm's idea for Compartés, and his love of geometry is evident throughout the brand. "The whole story is based on art, really," says Grahm. "When you look at other chocolate bars, they're usually squares within rectangles. I wanted to be the opposite of square." Grahm created his signature triangle-cut bars to differentiate himself from his competition. Even his truffles are cube-shaped instead of spherical.
Compartés has come a long way since its birth sixty years ago, its history passed down through generations. Mrs. Comparte, an Italian immigrant who had the dream of creating European-style chocolates in the U.S., began making confections out of her Brentwood home, dishing out delicious treats to her circle of friends. Eventually, her dream would become a brick-and-mortar reality: her namesake, Comparte's Chocolatier opened on the west side of Los Angeles—one location on Montana Avenue and the other in the historic Brentwood Country Mart. The business enjoyed its heyday in the 1950s, catering to an array of celebrities and political figures. But over time, the brand became diluted. No longer solely focused on premium chocolates, Comparte's began selling other confections and gift items, turning into a run-of-the-mill candy store and losing its luster and popularity.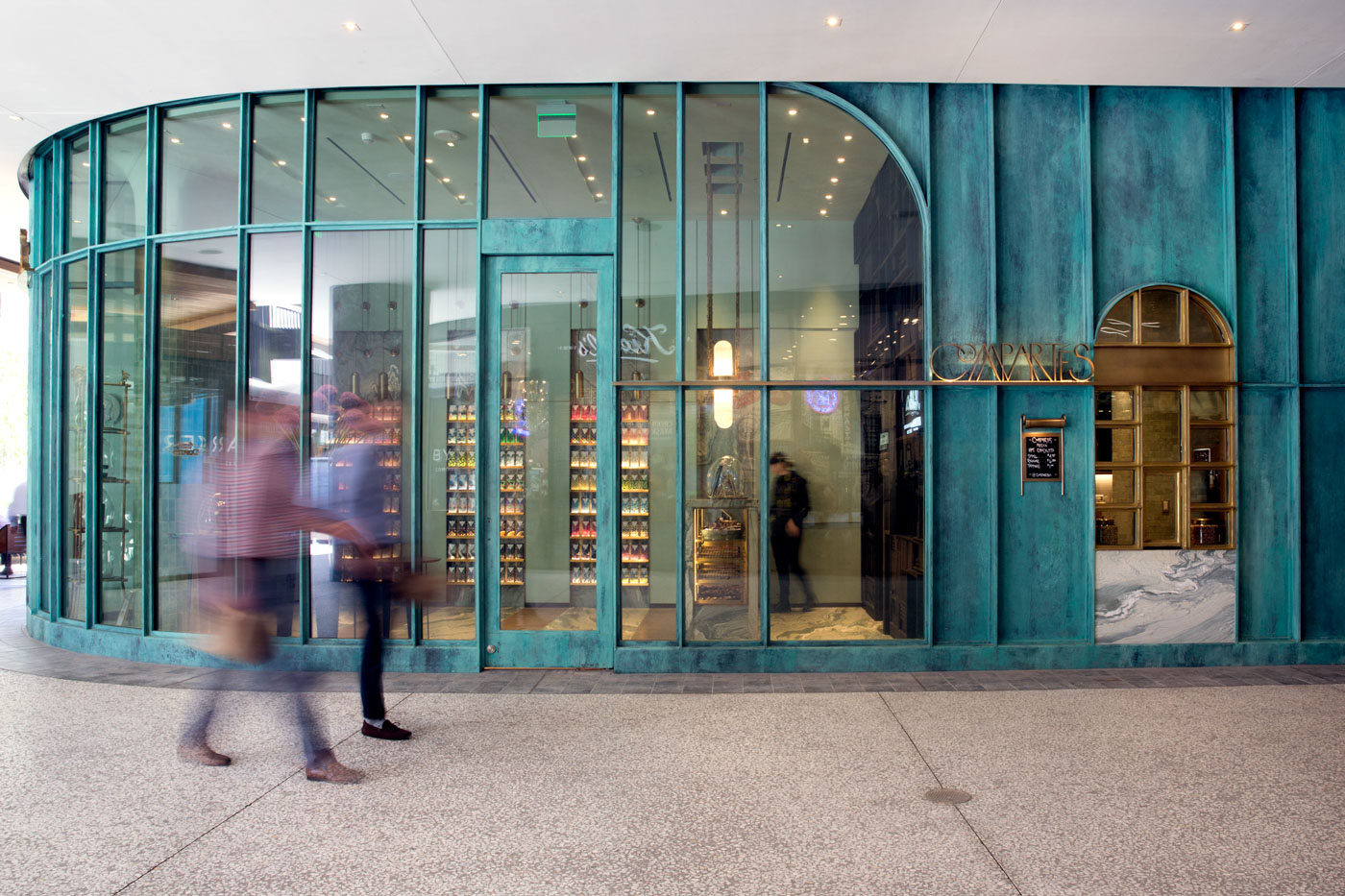 Grahm's family purchased the small company when he was fifteen years old. "My family started to run Compartés but the business wasn't really getting any better. My family saw that I started to have a real passion for chocolate; I spent time in the back room decorating the chocolates, taking white chocolate, and dyeing it with different colors, making drawings with it, and people would buy them," he tells me. With business still on the slow side, Grahm's family gave him the green light to experiment with some of the chocolates' fillings. "I had never been to culinary school—still have never taken one culinary class—and never taken a chocolate class. It was all through trial and error."
Grahm's mother, Shelley, who suddenly and tragically passed away at the age of forty-two when Grahm was only seventeen years of age, was a great source of inspiration and played a big role in shaping his palate. "She was really into ethnic foods, foods from different countries. I never ate American food growing up. We'd eat Thai, Indian, Himalayan, Middle Eastern, Greek, Caribbean, Mexican," he says. "All sorts of different things to inspire my palate, which you can now see, inspires my chocolate."
Grahm's first recipe, called "Love Nuts," was developed fourteen years ago at the age of nineteen. Hand-roasted nuts, caramelized and flavored with Tahitian vanilla bean and sea salt, are hand-coated with fourteen layers of Venezuelan milk chocolate, then dusted with brute cocoa powder. A mention in Food & Wine magazine got the attention of not only consumers but his family as well, who agreed Grahm was onto something. He tinkered further with Mrs. Comparte's classic recipes, taking the creations to the next level. The benefit of being a small company helped Grahm's experimentation efforts, especially with textures and flavor combinations that leaned more exotic. He could produce very small batches—ten to twenty truffles at a time—and use consumers as a focus group. That testing helped validate Grahm's concepts and grow his product line.
As business started to improve, Grahm approached his family with an entrepreneurial idea. "Compartés really started to take off with the new recipes I was doing. My family owned it and I was just getting paid hourly," Grahm says. "I knew I had to become some sort of owner of Compartés if this was going to be my life." He decided to dedicate himself to it one hundred percent. So Grahm bought Compartés from his family, taking out a business loan at the age of twenty-four. "It took me forever to qualify for the loan. I had to beg and plead," Grahm says with a laugh. "Taking out a loan and knowing I have to pay this thing back every month—not only my rent but this loan—propelled me to really work hard at turning it into a viable business."
Along with the fiscal responsibility came the more enjoyable aspect of creative freedom. "I have no one to answer to, which is an amazing place to be at. I have freedom to do what I want with the packaging, freedom to do what I want with the design," says Grahm. One of the first things Grahm did was tweak the brand's logo. "It used to be an apostrophe S—like Mrs. Field's—because it was Mrs. Comparte's company. Then when I bought it, I took the apostrophe and moved it to an accent over the E, to make it sound more sophisticated."
As a native Angeleno, Grahm pulls heavily from his life when concepting new flavors and designs for Compartés. "I think Compartés has become an amalgam of Los Angeles," says Grahm. "What's been really important to me in redeveloping the brand is injecting my own experiences. I always say Compartés is me; I am Compartés. It's one in the same thing."
Grahm's design sense played a big role when reimagining the packaging. Compartés was initially sold in black boxes, but Grahm wanted to bring art to the forefront, opting for bold colors and graphics. When he first began running the business, he couldn't afford a graphic designer so he had to execute his own ideas. "I just sat in Photoshop and Illustrator, and if I got stuck I'd watch tutorials," Grahm says. "I was creating this new genre of chocolate that appealed to my generation." From hand-drawn elements to photo collages, Grahm has been inventive in his approach to package design. "It's this labor of love—being able to infuse as much of myself and my personality and my passion into the chocolate, and then for that to translate into sales is something that is so amazing to me." Grahm's design skills are not just eye-catching, they are playful. His Donuts & Coffee bar has flying donuts in outer space accompanied by coffee beans and tiny spoons. The Milk & Cookies bar features an astronaut on a cookie planet standing next to an American flag. The packaging for the Coney Island bar—with vivid summer colors and unicorn heads—reflects a triple dose of cones found at the popular destination: the name of the island, waffle cones, and unicorns on the merry-go-round.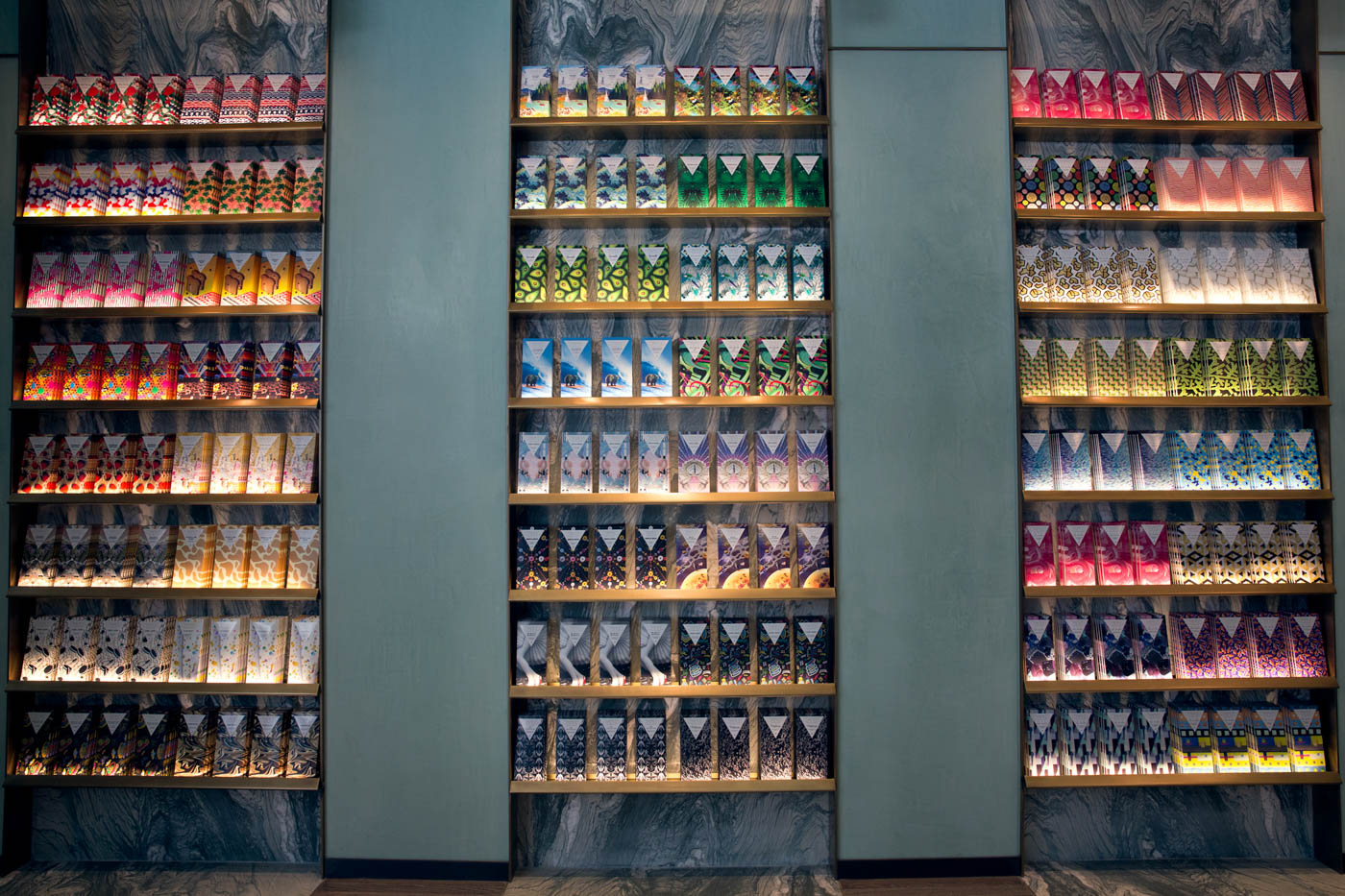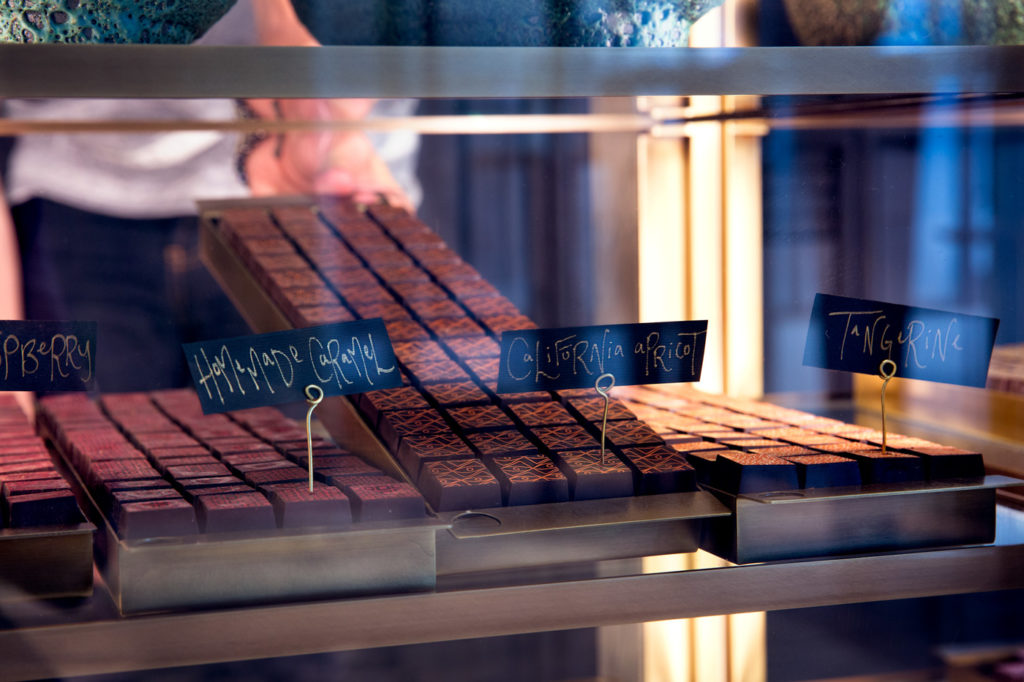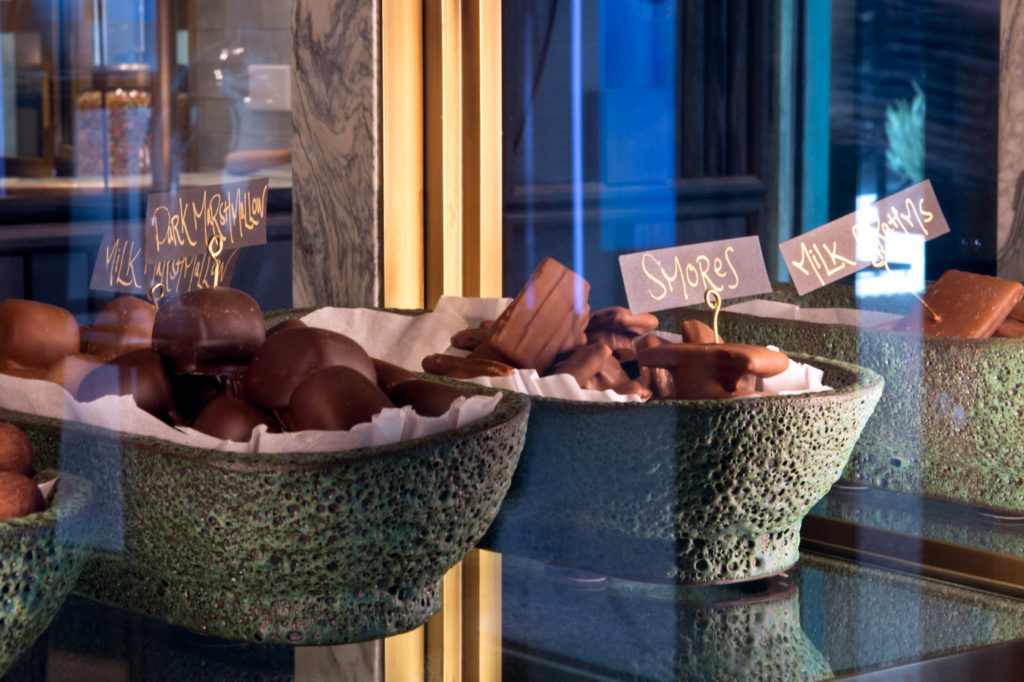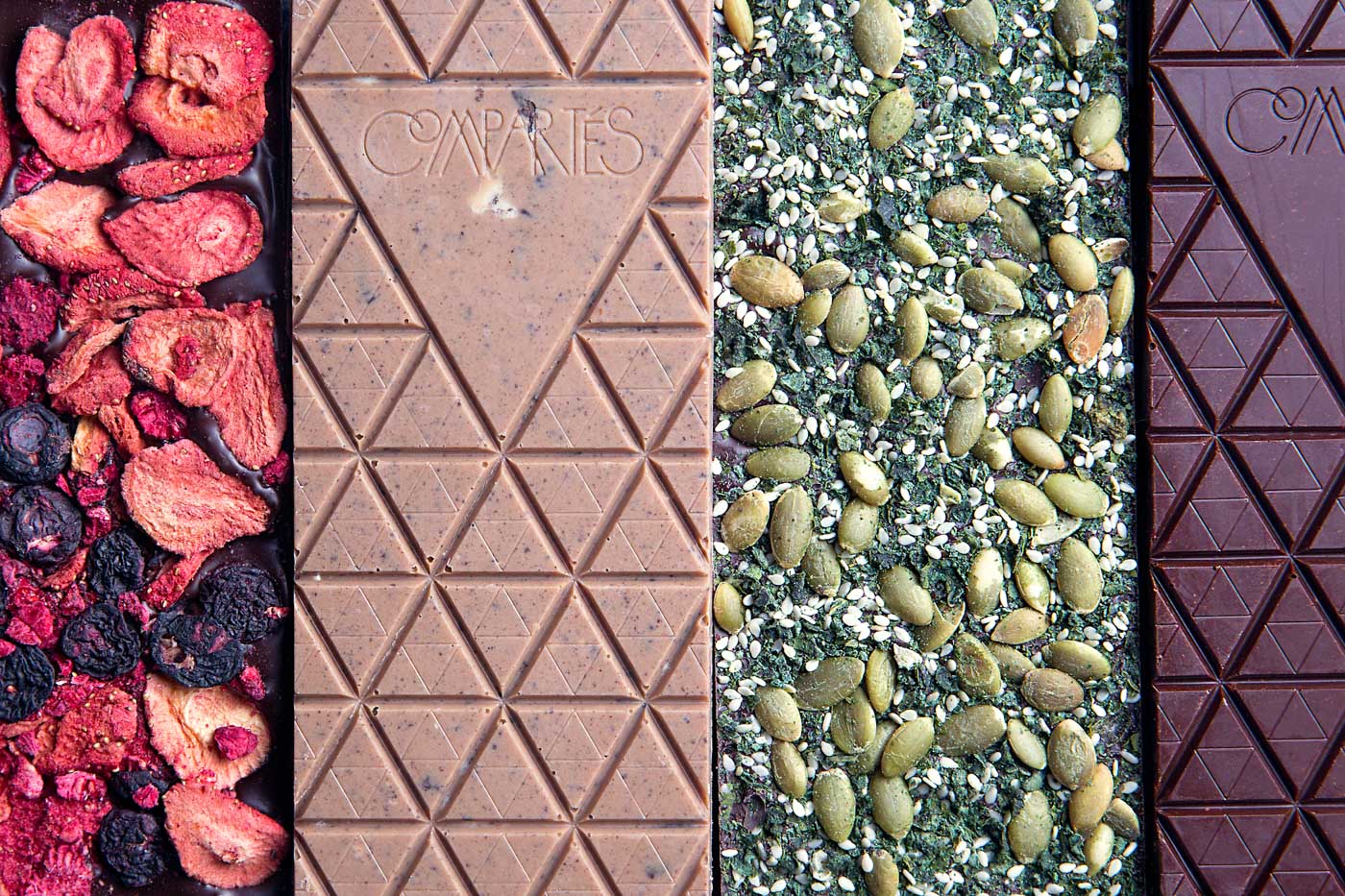 The striking visuals continue inside the box, past the gold foil wrapper. The use of real ingredients—not flavorings—is easily discernible. Actual potato chips offer a pleasantly salty surprise inside the Potato Chip Crisp bar. On the Spring Awakening bar, dried strawberries, raspberries and blueberries blanket the back in alluring shades of red and deep purple. The heavily textured, dark chocolate Vegan Kale bar—chock-full of kale crisps, pumpkin and sesame seeds—is so clearly healthy it's almost a stereotype of L.A. "It's so important to me to use real ingredients and not flavorings or artificial ingredients," says Grahm. "For the Donuts & Coffee bar, we literally drive to two of L.A.'s best donut shops to buy fresh donuts that we break apart and put into the chocolate bar, and we use diner coffee—not gourmet coffee—because the idea behind it is that donut and coffee experience; it's the policeman on break, it's what you see in movies. I have another bar that is made with gourmet coffee and it tastes different. Every time I'm creating a bar, I'm thinking about the flavor experience I want the person to have."
Compartés, unlike most confectioners who use a piping system, fills each mold by hand, making each bar distinctive. "Take our brownie bars, for example. We bake the brownies from scratch. Sometimes the brownies rise a little bit more than others, sometimes the brownie pieces are thicker, sometimes they're a little bit more chocolatey," explains Grahm. "That variation is what's so unique; it has this homemade quality on the inside, but the look and feel of something really gourmet and commercial on the outside."
It's a recipe that is paying off for the brand. Compartés chocolates are sold in seven hundred stores across the U.S. and worldwide, without the assistance of a distributor or sales reps. With retail locations in Los Angeles and Tokyo, Grahm's big picture includes shops one day in San Francisco, New York, London and Paris, as well as a chocolate production facility on the East Coast for distribution efficiency. But nothing is set in stone just yet. "Do I know how to make that happen? Absolutely not," Grahm says with a laugh. "I have no idea but it's certainly in my plan. But that's part of my story; I do everything in slow motion. I'm cautious about everything I do and I don't rush."
The chocolate company has garnered an extensive social media following, and Grahm admits the power of Instagram has been remarkably influential for his business. "People are constantly posting our products," says Grahm. Instagram even did a profile on Compartés. "We have no publicist so the fact that Instagram is plugging us is so cool to me." The power of collaborations has benefited Compartés as well. Grahm frequently approaches—and is approached by—other brands for partnership opportunities. Renowned interior designer, Kelly Wearstler, who designed the Compartés flagship store in Los Angeles' Century City Mall, has collaborated with Grahm on twenty-four individual chocolate bars. Chocolate relationships have also included items for J. Crew, The Beverly Hills Hotel, Museum of Ice Cream, and a soon-to-be Vogue Magazine collaboration.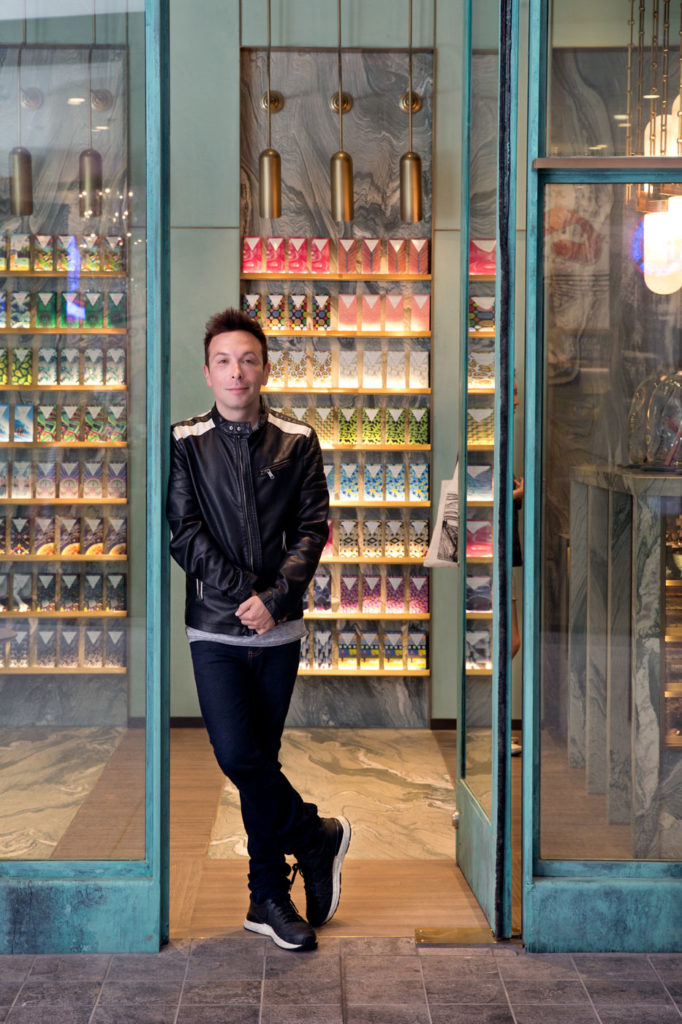 In nine years, Grahm has managed to turn Compartés into a high-end brand that oozes art, luxury and coolness. His clientele ranges from food-centric locals to L.A. tourists to mature consumers. "I'm proud of what I've done; I've very clearly focused on chocolate. A lot of brands, and a lot of people, can get caught up in many different elements and doing too much too quickly. I've stayed true to doing one thing really well for my brand," says Grahm. "Yes, I want to expand in the future, but I now have a base to expand off on because I created these chocolates, and created these flavor profiles. I think it's important to have one goal and if you work toward that goal every day, you're going to accomplish something."